People
Professor Edik Rafailov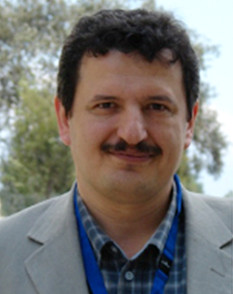 Since 1987, Prof. Edik Rafailov has been engaged in the research and development of novel semiconductor lasers, nonlinear and integrated optics. Prof. Rafailov received the Ph.D. degree from the Ioffe Institute. In 2005, he established a new group in the University of Dundee, and in 2014 he and his Optoelectronics and Biomedical Photonics Group moved to the Aston University, United Kingdom.
Prof. Rafailov has carried out the pioneering work in the area of novel compact lasers and nanomaterials called 'quantum-dots in ultrafast science and technology'. His development work in a new generation of low-cost, compact and turn-key lasers based on quantum-dot structures has had a significant economic impact, enabling affordable ultrafast applications and facilitating emergence of new applications.
Prof. Rafailov's research has had positive effects in many new applications, particularly in healthcare where non-invasive portable optical diagnostic and therapeutic tools have become a reality in medical care. Such laser sources have already found uses in hospitals, particularly in the Ninewells Hospital in Dundee, where multiphoton imaging systems, micromachining, material diagnostics and spectroscopy are currently being routinely used.
Prof. Rafailov has authored and co-authored over 350 articles in refereed journals and conference proceedings, including two books (WILEY), five invited chapters and numerous invited talks on SPIE, LEOS and CLEO. He also holds ten UK and two US patents. He was responsible for the first demonstration of Al-free laser diodes, for this work he personally (1993) and his group (1994) was awarded funding from the International Science Foundation (ISF). The work on novel laser diodes (in collaboration with Prof. Zh.I.Alferov, Nobel Prize winner in 2000) was also funded by ISF in 1994. Prof. Rafailov is also responsible for the first demonstration of femtosecond pulse generation directly from quantum-dot laser diodes (2005).
Prof. Rafailov coordinated the €14.7M FP7 FAST-DOT project – development of new ultrafast lasers for Biophotonics applications. Currently, he coordinates the €11.8M NEWLED project which aims to develop a new generation of white LEDs. He also leads others projects funded by EU FP7, EPSRC and KTP funding. His current research interests include high-power CW and ultrashort-pulse lasers, generation of UV/visible/IR/MIR and THz radiation, nano-structures, nonlinear and integrated optics, and Biophotonics.
Key Grants and awards:
2020-2022 Coordinator and Principal Investigator of FET Proactive project PLATFORMA (value €2M, Aston part €360k)
2019-2021 Lead Academic Researcher, COFUND MULTIPY project (Dr T. Gric, PLATINA) (value €60k)
2020-2024 Principal-investigator of H2020 project called AMPLITUDE (coordinated by Tampere University) (value €4.7M, Aston part €620k)
2020-2023 Coordinator and Principal Investigator of FET OPEN project NEUROPA (value €3.6M, Aston part €1.022M)
2019-2020 Coordinator and Principal Investigator of FET OPEN Launchpad called SCAFFOLD-NEEDS (in collaboration with Laser NanoFab GmbH, Hannover) (€100k)
2020-2022 Lead Academic Researcher, People Marie Curie Action project (Dr V. Dremin, "Multimodal hyperspectral system for imaging of biological tissues glycation", MultiBioScan) (value €225k)
2019-2021 Lead Academic Researcher, People Marie Curie Action project (Dr N. Chichkov, "Mid-infrared laser system for high-throughput bioprinting by laser-induced forward-transfer", MIDLIFT) (value €213k)
2019-2020 Lead Academic Researcher, COFUND MULTIPY project (Dr S. Smirnov, iTERA) (value €60k)
2019-2023 Principal-investigator of H2020 project called PULSE (coordinated by Tampere University) (value €5.21M, Aston part €610k)
2018-2022 Principal-investigator of EPSRC grant proposal, "Compact THz based systems for neuroscience applications" (value £957k)
2017-2018 Principal Investigator in Innovate UK/EPSRC CoolBlue 2 project (led by CSTG Ltd) (value £495k)
2017-2019 Co-Investigator of Russian Ministry of Science and Education (№ 12.1223.2017/PCh) grant on "The methods of opening of the blood brain-barrier" (value €500k)
2017-2018 Principal Investigator in Innovate UK/EPSRC CoolBlue project (led by CSTG Ltd) (value £295k)
2017-2021 Principal Investigator in H2020 RISE project called VISGEN (coordinated by Birmingham University) (value €1.26M)
H2020 FET MESO-BRAIN (value €3.3M)
People Marie Curie Action project (Dr E. Zherebtsov, FORECAST)
The Leverhulme Trust Visiting professorship (Prof K. Staliunas)
The Fletchers Fund (value £125k)
FP7 IDP project PHOQUS (value €3.8M)
FP7 IAPP project ABLADE (value €2.4M)
FP7 IP program NEWLED (value €11.8M)
FP7 R4SME project HiCore (value €1.7M)
FP7 project NEXPRESSO
FP7 IAPP project TERA (value €1.4M)
People Marie Curie Action project (Dr Y. Ding, NiNTENDU-PULSE)
FP7 IAPP project MEDILASE (value €1.7M)
People Marie Curie Action project (Dr G. Sokolovskii, SeNDBeams)
EPSRC grant (EP/H015795/1), "Compact diode-laser-pumped THz source based on a novel photomixer device."
People Marie Curie Action project (Dr E.Semenova)
EU ERDF project (value €0.7M)
FP7 IP program called FAST DOT (18 partners) (value €14.8M)
EPSRC grant (EP/E005381), "Novel quasi-phase-matched semiconductor nonlinear crystals to generate light in broad wavelength ranges."